One of the things that inevitably comes with any type of crafting/food blogging is messes. I can literally clean the place spotless and within 2 hours later, there are sprinkles coating the floor, tape sticking to my clothes, and layers of paper and cutlery filling my craft table. I've lived in my current apartment for nearly a year, and I'm just now getting the decorations figured out & my collection of supplies organized. No bueno. So when Toni over at Make Bake Celebrate asked if I wanted to participate in a Great Closet Cleanout as an attempt to organize all our baking supplies/sprinkles, I was all in. Now, before I begin – let me set something straight. Home decorating is not my strong suit. But if you take a look at the "Before" then the after below will appear an improvement. I still have a few ideas on how to spruce this little blogging corner up a little more, but for now, here it is! If you hover your mouse over the image below, you will see the different parts broken down.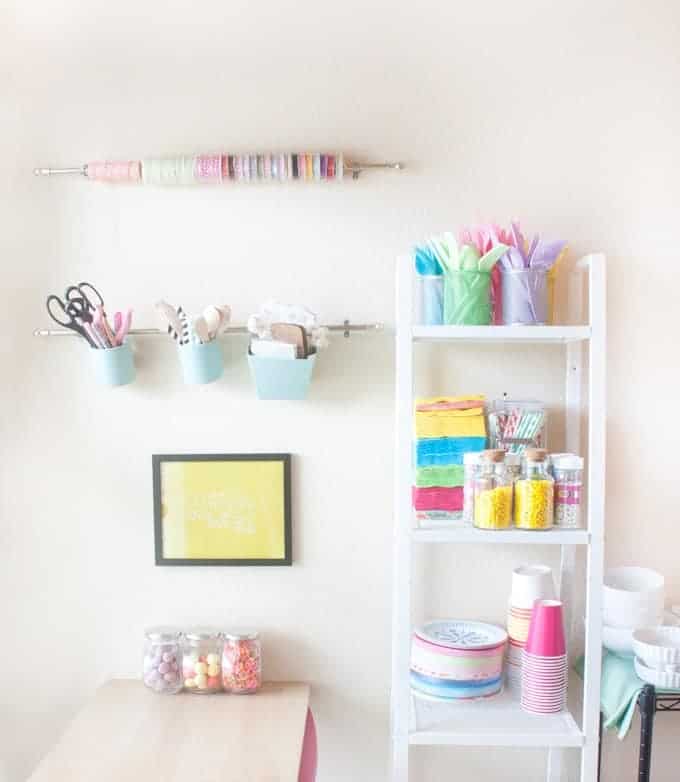 Thanks to my good pal Target, I was able to concoct those wall organizers up for about $15 total. It's amazing what utilizing a little wall space can do for a tiny area. Between $3 window curtain rods, $1 porcelain candle holders, and a $5 frame, I was able to use the wall to organize a few of the pencils, spoons, and paper bags. I stacked most of the other supplies on an old Ikea shelf, which turned out to be the perfect size for this small space.
I did this makeover in collaboration with a few other food bloggers, so be sure to check out all their baking closets makeovers below. We all collectively share a love for paper straws, sprinkles, and colored napkins – and I'm obsessing over some of their baking loot!