St. Patrick's Day is one week away by the looks of today's weather, I'm thinking spring may actually be around the corner! Whether you're planning to party it up this weekend, or keep it low-key, there are easy ways to add a little festivity to your day without all the hoop-lah of the social scene. With a few bananas, chocolate, and sprinkles, you can make a simple treat that is sure to add a little green spirit to your day.
I had some leftover chocolate melting wafers from the Valentine's truffle post, so I figured I would try to use them up before the half-full bag disappeared into the black hole of my pantry. They melt easily in the microwave and then harden quickly after dipping, which makes them great for projects like this.
After cutting the bananas in thirds, I popped a green straw into each one, put them on a (wax paper covered) baking sheet, and popped them into the freezer for about 20 minutes. This allowed them to harden, so that the paper straw didn't slip out when dipping. After chilling, it's as simple as melting the chocolate wafers and dipping each banana pop into the bowl!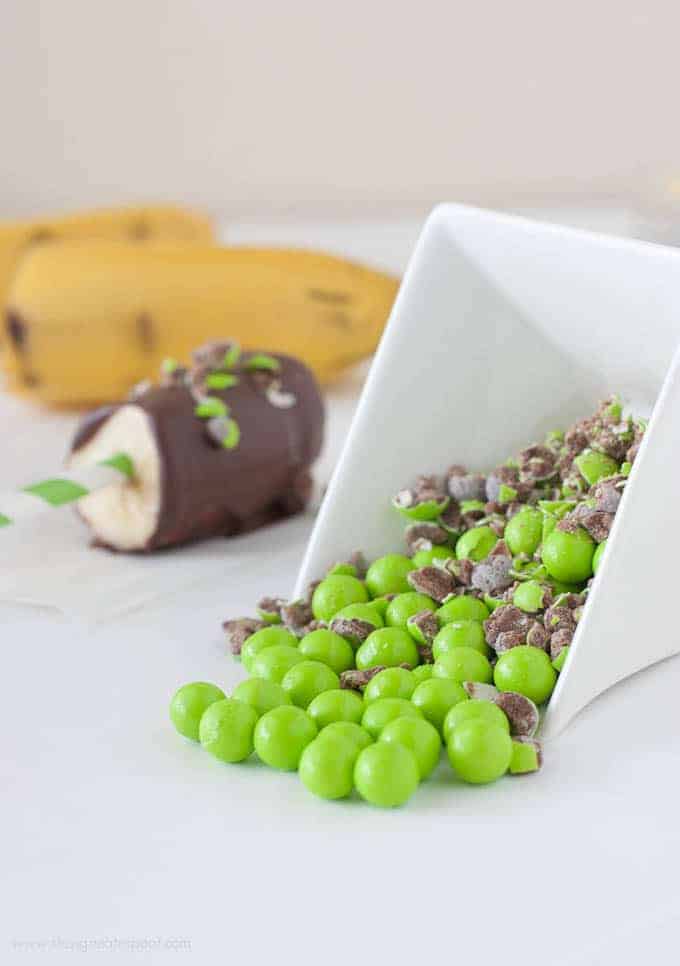 And if you want to add some extra color & crunch, chop up some candy or sprinkles and top right after dipping. The chocolate will harden pretty quickly, so if you're using any kind of topping, act fast or forever hold your peace.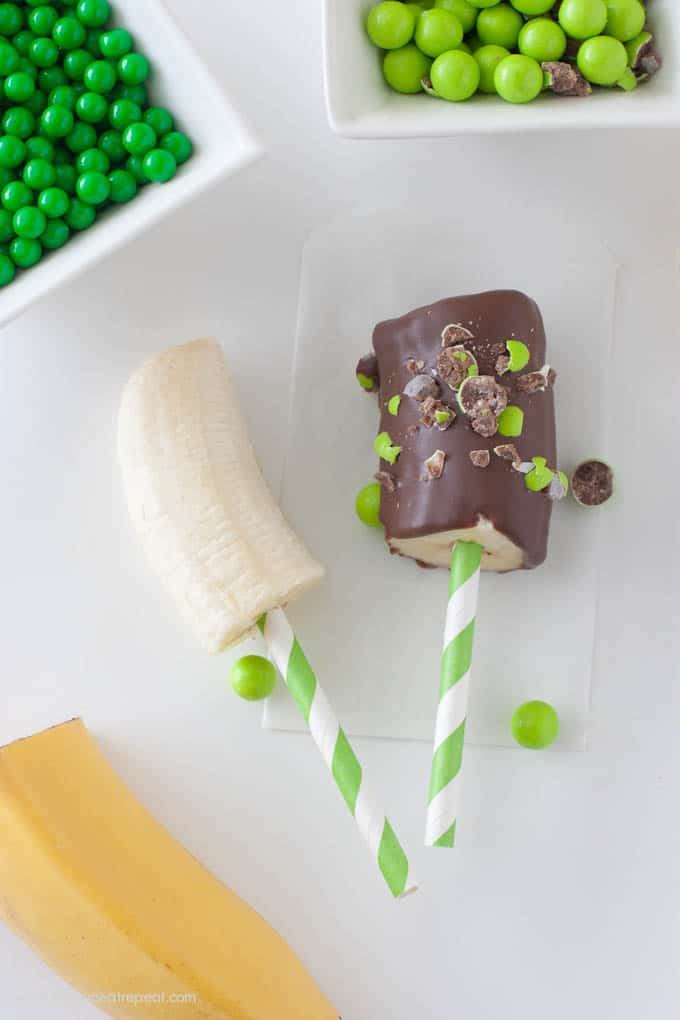 Chocolate Dipped Banana Pops
With a few bananas, chocolate, and sprinkles, you can make a simple treat that is sure to add a little green spirit to your day.
Prep Time: 20 minutes
Total Time: 20 minutes
Course: Dessert
Category: Easy Snack
Servings: 9 Pops
Ingredients
3 bananas cut into thirds
3/4 cup chocolate wafers I used Dark Ghirardelli Candy Making & Dipping Wafers
Paper Straws or Popsicle Sticks
Optional: Sprinkles or Sixlets to top
Instructions
Cut each banana in thirds and place on a wax paper covered baking tray.

Cut each paper straw in half and push into the ends of each banana. Place in freezer for 20 minutes to harden.

Pour the chocolate wafers in a shallow microwave-safe bowl and melt according to instructions on package. This usually takes 1-2 minutes.

Remove the bananas from the freezer and carefully dip/roll each pop into the chocolate. Once covered, place each pop back on the wax paper and sprinkle with chocolate candy or sprinkles. (The chocolate will set quickly, so be sure to add toppings right away!)

Enjoy frozen or allow to sit out at room temp before eating!
Recipe Notes
Depending on the size of the bananas and how thick you want the chocolate layer, you may need to melt extra chocolate. If you're using the Ghirardelli bag, you will have extra wafers in case this is needed! If you have leftover chocolate, you can double dip the bananas or use it to cover other fruits, cookies, desserts.
Nutrition
Calories: 37kcal
Sodium: 3mg
Potassium: 140mg
Carbohydrates: 9g
Fiber: 1g
Sugar: 4g
Vitamin A: 25%
Vitamin C: 3.4%
Calcium: 2%
Iron: 0.1%
I feel like St. Patrick's Day is such a commercialized holiday, yet I can't resist crafting for it every year. What do you do to "celebrate" St. Paddy's Day? It's a big deal back in my hometown, but if I'm being completely honest, I'll probably just celebrate with a $2 Shamrock Shake and call it a day.