So you know how some bigger grocery stores have those walls of candy dispensers that look like a scene straight out of Willy Wonka? Typically I walk right past this aisle, but a few weeks ago when I was stocking up on ingredients for this series, I decided to see what all the hype was all about. The candy is priced by weight and the most thrilling part of the whole experience is that you get to dispense your own candy, weigh it on the scale, and print off a little price sticker. Talk about being easily amused, but seriously…so fun.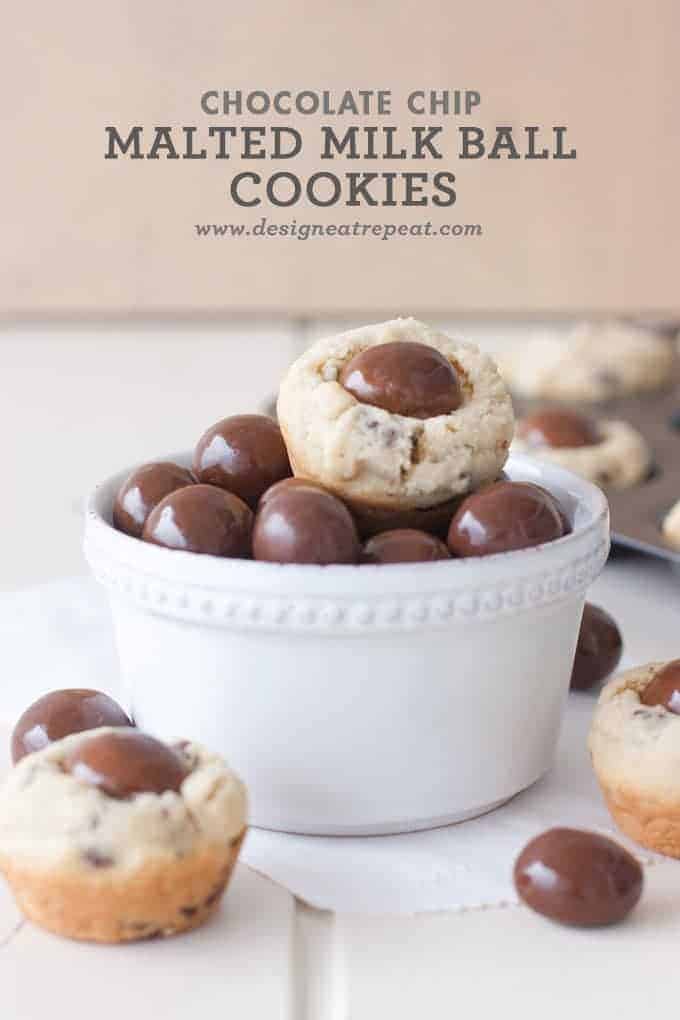 So one of the candies on this magical wall was malted milk balls. Now, let me clarify one thing. Would it have been cheaper to go buy a box of Whoppers? Well, yeah. Most likely. But would it have been as fun? No. No it would not. Besides, what's a grocery store visit without a little extra thrill?
I bagged up a handful, went home, and tried to keep the bag unopened until it was time to make some type of cookie with them. But people, this was weeks ago and I'm not going to lie and tell you a few of them didn't mysteriously go missing during that time.
And when the time came to actually use them how they were intended, I luckily still had enough to bake with them. This recipe started off as an attempt to make plain chocolate chip cookies. But after mixing the dough and realizing the dough was a little too sticky to make cookies with, I decided to take another route and make them into cookie muffins. Which worked out perfectly because placing the dough in the muffin tins was just what it needed to hold up.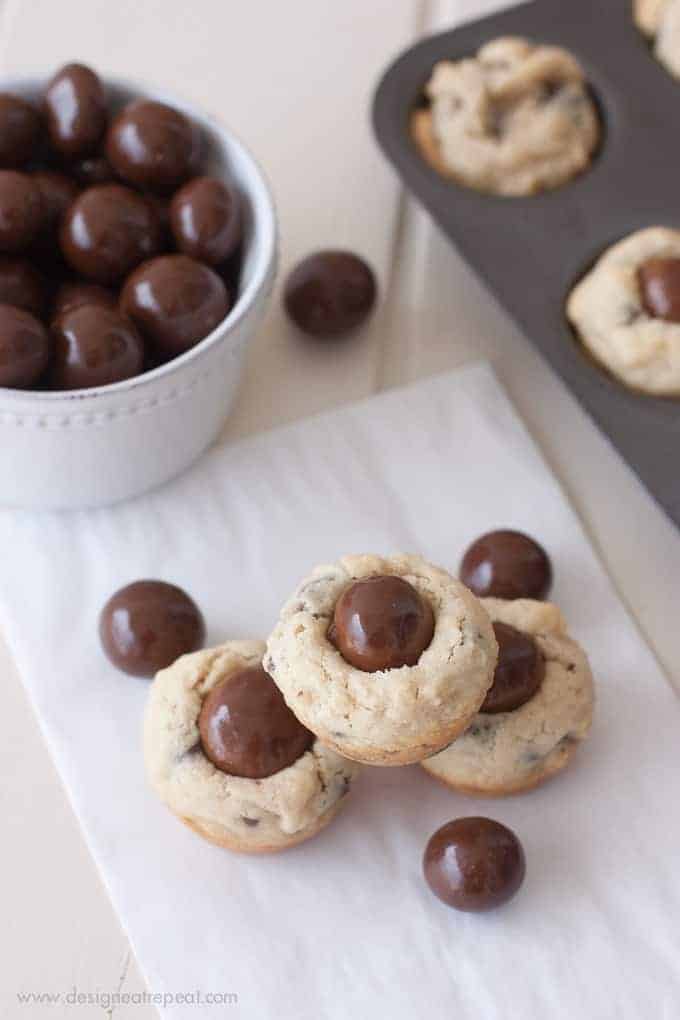 Much like peanut butter cup cookies, you simply press the malted milk ball into the hot cookie after it has been baked. As an experiment, I placed one in the cookie before baking and it shriveled up. So if you're curious if it will melt or not, just know that it won't melt, but it will shrivel up. Not ideal if you're going for presentation.
Chocolate Chip Malted Milk Ball Cookies
Prep Time: 10 minutes
Cook Time: 10 minutes
Total Time: 20 minutes
Course: Dessert
Category: Cookie
Servings: 48 Cookies (depending on size)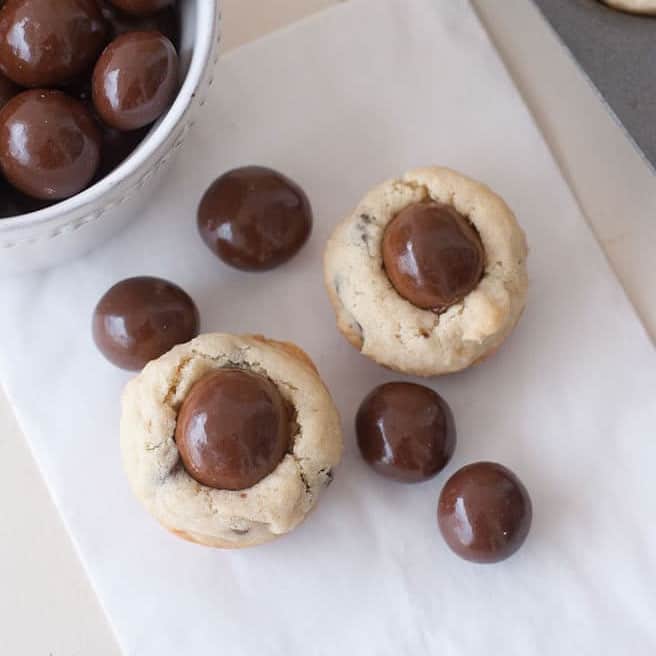 Ingredients
1 cup butter, softened (2 sticks)
3/4 cup brown sugar
1/4 cup sugar
1 teaspoon vanilla
2 eggs
1/2 teaspoon baking soda
2 1/2 cups all-purpose flour
1 1/2 cups semi-sweet chocolate chips
4 dozen malted milk ball candies + more for munching, of course
Before you begin! If you make this, will you do me a huge favor and leave a review and rating letting me know how you liked this recipe? This helps my small business thrive so I can continue providing free recipes and high-quality content for you.
Instructions
In a large bowl, cream together butter, brown sugar, and white sugar with an electric mixer on medium speed for 30 seconds. Add in vanilla and eggs and continue to mix for 10 seconds.

Add baking soda and mix on low speed for 10 seconds. Add flour and continue to mix until all flour is incorporated.

Add in the semi-sweet chocolate chips to the dough and mix for 10 seconds on low speed.

Scoop dough into 1 tablespoon sized balls and place each in a greased, mini muffin tin.

Bake at 350 degrees for 10 minutes. Remove from oven, wait for 2-3 minutes, then press malted milk ball into the center of each cookie. Allow to cool before removing from the cookies from the pan.

If not serving immediately, store in an airtight container for up to 3 days.
Last Step! Please leave a review and rating letting me know how you liked this recipe! This helps my small business thrive so I can continue providing free recipes and high-quality content for you.
Nutrition
Calories: 110kcal
Fat: 6g
Saturated fat: 3g
Cholesterol: 17mg
Sodium: 49mg
Potassium: 47mg
Carbohydrates: 12g
Sugar: 6g
Protein: 1g
Vitamin A: 130%
Calcium: 9%
Iron: 0.7%
Malted milk balls always remind me of road trips, but otherwise, they aren't something I typically buy. It's just that the candy wall looked way to fun to pass up. I know a few people who despise malted milk balls, but a few that really love them. What's your opinion on them?