* If you follow me on social media, you know that all of November I will be posting cookie recipes in a series called, 30 Days of Cookies. That's 30 recipes to develop, make, photograph, edit, and write in 30 days. For a roundup of all posts, you can visit the 30 Days of Cookies Archive page. Today is Day 24 of 30 with these Chocolate Chip Macadamia Nut Cookies. Follow along on Instagram for behind the scenes cookie-making-madness and be sure to link up your own cookie recipes, using the hashtag #30daysofcookies.
It wasn't until today that I realized I haven't posted a simple chocolate chip cookie recipe yet. Before I began this series, I texted my younger brothers asking what their favorite type of cookie was. I was expecting some type of peanut butter response, but to my surprise, both said chocolate chip. Plain ol' chocolate chip. What intricate tastes we have here.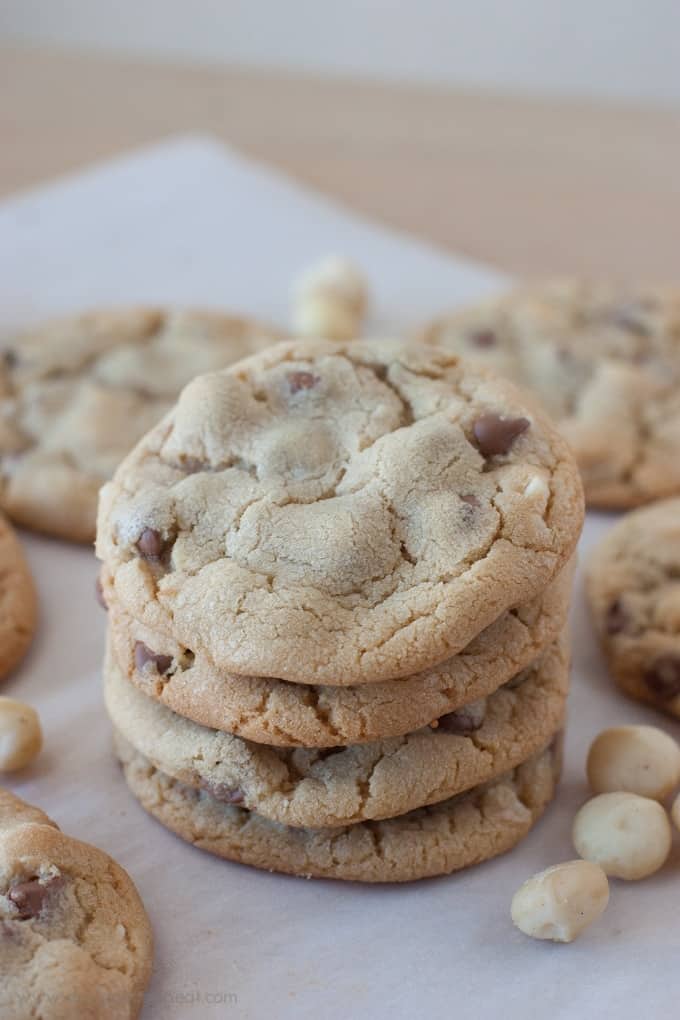 Macadamia nuts aren't something I typically bake with, but since my goal of this series was to branch out a bit more, I decided to throw them in to these chocolate chip cookies. Plus, besides the magical candy wall, there's also a magical nut wall. I just couldn't resist.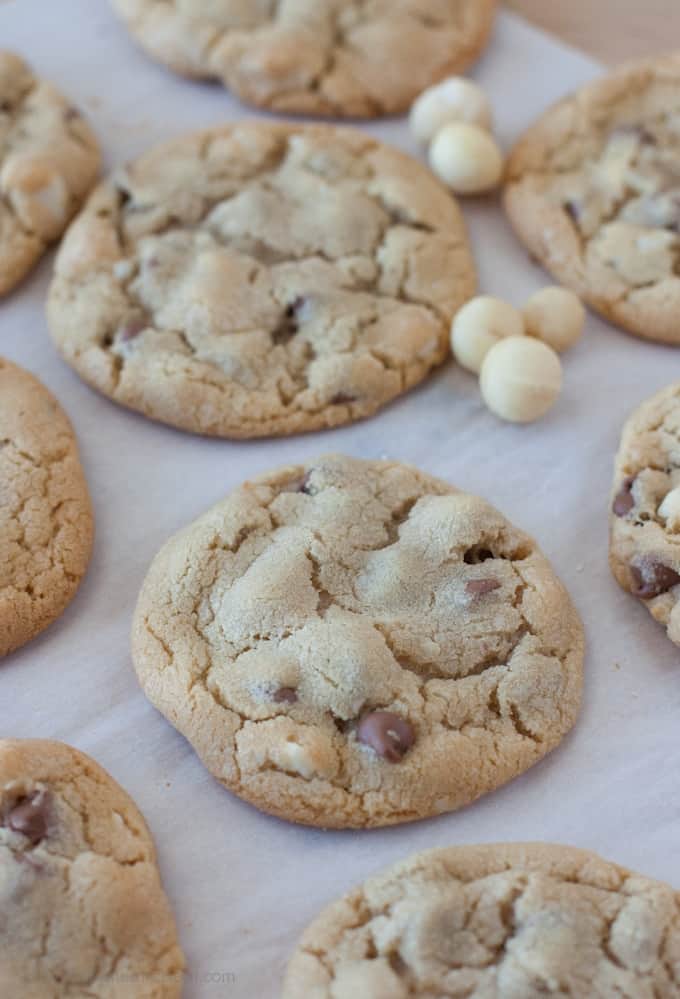 These cookies are big and thick to be able to hold the chocolate chips & macadamia nuts inside. With a slightly crunchy outside, and a soft inside, these cookies are perfect dunkable material.
And with all this cookie-making, I haven't been able to squeeze in the printable posts that I've made lately. When I start drawing things about cookies, you know something has gone overboard. Cookies on the mind all day, everyday.
Chocolate Chip Macadamia Nut Cookie
Prep Time: 10 minutes
Cook Time: 10 minutes
Total Time: 20 minutes
Course: Dessert
Category: Cookie
Servings: 18 cookies
Ingredients
3/4 cup 1 1/2 sticks butter, softened
3/4 cup sugar
3/4 cup brown sugar
1 egg
1 teaspoon vanilla
1 teaspoon baking soda
2 cups all-purpose flour
1/2 cup macadamia nuts chopped
1 cup milk chocolate chips
Instructions
In a large mixing bowl, cream together butter, sugar, and brown sugar with electric mixer for 30 seconds. Add egg and stir until combined.

On low speed, add in vanilla. Add baking soda and stir for 10 seconds. Slowly add in flour and mix for 30 seconds, or until dough is combined.

Mix in macadamia nuts and chocolate chips.

Scoop & roll into 2-tablespoon sized balls and place on a parchment-covered baking sheet. Lightly flatten the tops of each cookie so they are more like thick discs. This will help them bake more evenly.

Bake at 350 degrees for 12-13 minutes.

Allow for the cookies to continue to cool on baking sheet for 5-10 minutes until removing cookies from the baking sheet.
Nutrition
Calories: 266kcal
Fat: 13g
Saturated fat: 6g
Cholesterol: 30mg
Sodium: 75mg
Potassium: 46mg
Carbohydrates: 35g
Sugar: 23g
Protein: 2g
Vitamin A: 270%
Vitamin C: 0.1%
Calcium: 28%
Iron: 1%
Macadamia nuts have a unique taste that, in my opinion, are best paired with chocolate. What are your thoughts on them? If you're not a fan, these cookies can be made without them. I'll probably make these again closer to Christmas without the nuts, because I'm not sure the lil' bros will appreciate the unexpected addition. Although I'm kind of tempted to leave them in and see if they notice in the midst of snagging five off the kitchen counter…