This is a sponsored post by NESTLE Coffee-mate. All reviews/opinions expressed in this post are unbiased & based on my personal view.
Growing up, a week rarely went by where chocolate chip cookies didn't manage to sneak their way into the after-school or nightly routine. The pantry was always stocked with multiple bags of chocolate chips and chocolate chip cookies were just one of those treats that didn't have crazy ingredients that required running to the store for (unless the chocolate chip thieves were in action), which was always a major plus considering late night grocery store runs weren't quite possible in a town that closed everything down at 9pm.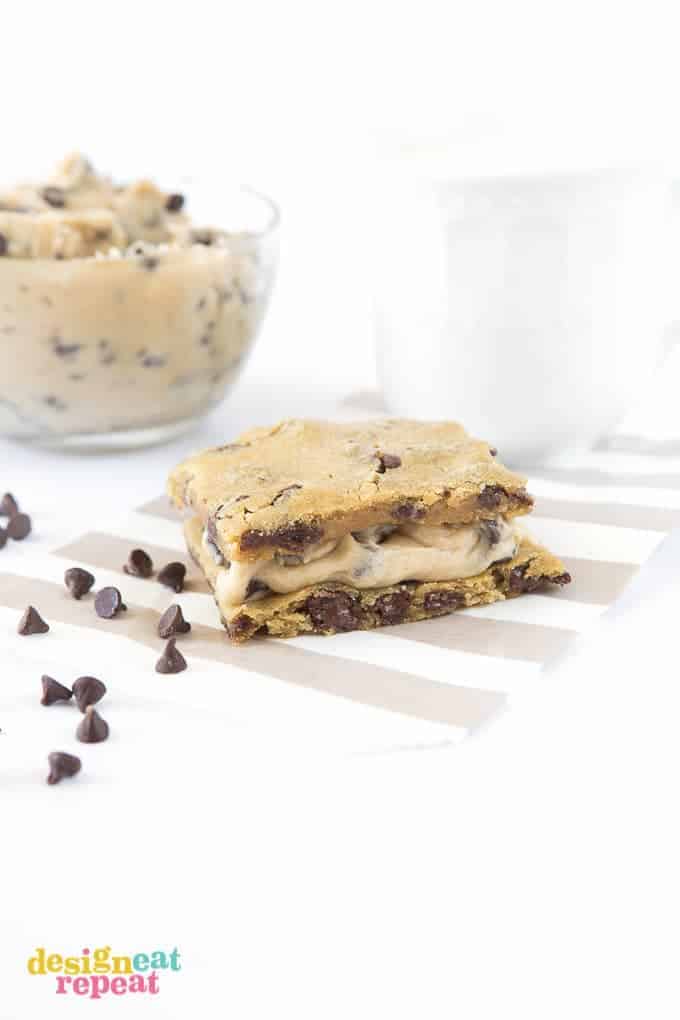 And just like I do now, I would bake late at night for a before-bed-snackaroo of milk & cookies (exactly what kids should eat right before bed, of course) and the tray would be empty by the time the lights were turned out. In my household, there really wasn't any need for a cookie jar because rarely did it actually house cookies. Cookie jars are for storing cookies and storing cookies has never been a necessity around these parts.
And to this day whenever I make it back home for a few days, I'm usually requested to either buy the siblings cookie dough ice cream concoctions or make them chocolate chip cookies (which we refer to as "CC-Cooks"). And because I much prefer to bake when I know that I won't have to talk myself out of eating the entire batch myself, I usually oblige. Baking for others = 500% better than baking just for myself. It's actually the main reason I don't do many recipe posts these days, because I just can't justify baking if the extras go to waste. One thing which never seems to be a problem when high schoolers are around.
So in lieu of keeping summer baking quick & easy (and the siblings satisfied), I'm sharing with you this egg-less cookie dough filling recipe that you can pile on to your favorite treats. Spread it between two cookie bars, pop it into the freezer, and you have yourself a chewy, slightly frozen cookie sandwich. I don't know about you, but it really doesn't get any better than slightly frozen chocolate chip cookies AND slightly frozen cookie dough combined. Warm cookies straight from the oven are good & all, but slightly frozen may have that beat in my books. There's something about frozen chocolate that I can't resist.
Made with the same ingredients you would put in chocolate chip cookie dough (minus the eggs & adding in some creamy elements), this spread is full of flavor with the addition of a few tablespoons of Coffee-Mate Toll House® Chocolate Chip Cookie flavored creamer. I'm not a big coffee drinker myself (although I weirdly wish I was) so I typically use creamers for recipe purposes rather than in coffee, but this one is one I'd drink straight from the bottle. It's slightly chocolatey with an espresso undertone, which makes these cookie sandwiches over the top yummilicous.
If you're looking for something a little more sophisticated lookin', ditch the sandwiches and layer the spread in between some cookie crumbles for a slightly more dinner-party dessert. Scoop on some vanilla ice-cream and you've got yourself a chocolate chip espresso ice cream parfait. YES PLEASE.
I may or not be known to eat cookies for breakfast (especially around aint-nobody-got-time-to-cook-around-design-deadlines), but we're all friends around here so #nojudging, mmkay?
Chocolate Chip Cookie Dough Spread
Spread this no-bake cookie dough in between two chocolate cookie bars for the perfect cookie dough packed treat.
Prep Time: 20 minutes
Total Time: 20 minutes
Course: Dessert
Category: Cookie
Servings: 16 Bars (makes about 1.5 Cups Spread)
Ingredients
For Spread:
1/2 cup butter softened (not melted)
1 cup brown sugar
1/3 cup powdered sugar
5 tablespoons Coffee-Mate Toll House® Chocolate Chip Cookie flavored creamer
1/4 cup plain greek yogurt
1 1/3 cup all-purpose flour
2 cups whipped cream
1 cup mini semi-sweet chocolate chips
Your Favorite Chocolate Chip Cookie Bars used here is refrigerated Toll House Cookie Dough
Optional: Whipped Cream or Ice Cream to top parfaits
Before you begin! If you make this, will you do me a huge favor and leave a review and rating letting me know how you liked this recipe? This helps my small business thrive so I can continue providing free recipes and high-quality content for you.
Instructions
In a medium sized bowl on medium speed, beat together butter, brown sugar, and powdered sugar for 1 minute until combined. Add

Coffee-Mate Toll House® Chocolate Chip Cookie

flavored creamer and greek yogurt and continue mixing for 20 seconds until incorporated.

Turning mixer on low speed, add in flour and mix until combined.

Turn off mixer and fold in whipped cream with a spatula until incorporated. Mixing by hand will create the lightest texture, but you can also mix this in on low speed, if desired.

Mix in chocolate chips.

Cover and let chill in refrigerator for 20-30 minutes before spreading onto cookie bars or trifles.
Last Step! Please leave a review and rating letting me know how you liked this recipe! This helps my small business thrive so I can continue providing free recipes and high-quality content for you.
Recipe Notes
Nutrition for Spread only.
Nutrition
Calories: 263kcal
Fat: 13g
Saturated fat: 8g
Cholesterol: 23mg
Sodium: 59mg
Potassium: 134mg
Carbohydrates: 32g
Fiber: 1g
Sugar: 21g
Protein: 2g
Vitamin A: 255%
Calcium: 40%
Iron: 1.5%
So although keeping chocolate chip cookies around long enough to make into pretty parfaits isn't always an easy feat, this spread is a top contender the next time the minions ask for a nightly sugar fix. Plus, if you're not a big chocolate chip cookie person, Coffee-Mate also has Caramel Macchiato and Classic Vanilla flavored creamers when you're craving something sweet. Sign me up!