* If you follow me on social media, you know that all of November I will be posting cookie recipes in a series called, 30 Days of Cookies. That's 30 recipes to develop, make, photograph, edit, and write in 30 days. For a roundup of all posts, you can visit the 30 Days of Cookies Archive page. Today is Day 13 of 30 with these Chocolate Bottomed Mint Creme Cookies. Follow along on Instagram for behind the scenes cookie-making-madness and be sure to link up your own cookie recipes, using the hashtag #30daysofcookies.
Mint, oh' mint. It's about time a mint cookie popped into 30 Days of Cookies. Mint is one of my favorite flavors, so it was only a matter of time before something minty showed up. A little salty, a little sweet, and a little bit mintalicious.
The base of this cookie is the same base I used for the Homemade Oreos. It gives these cookies enough structure to be able to hold the mint creme filling, while the chocolate adds a nice contrast to the mint flavor.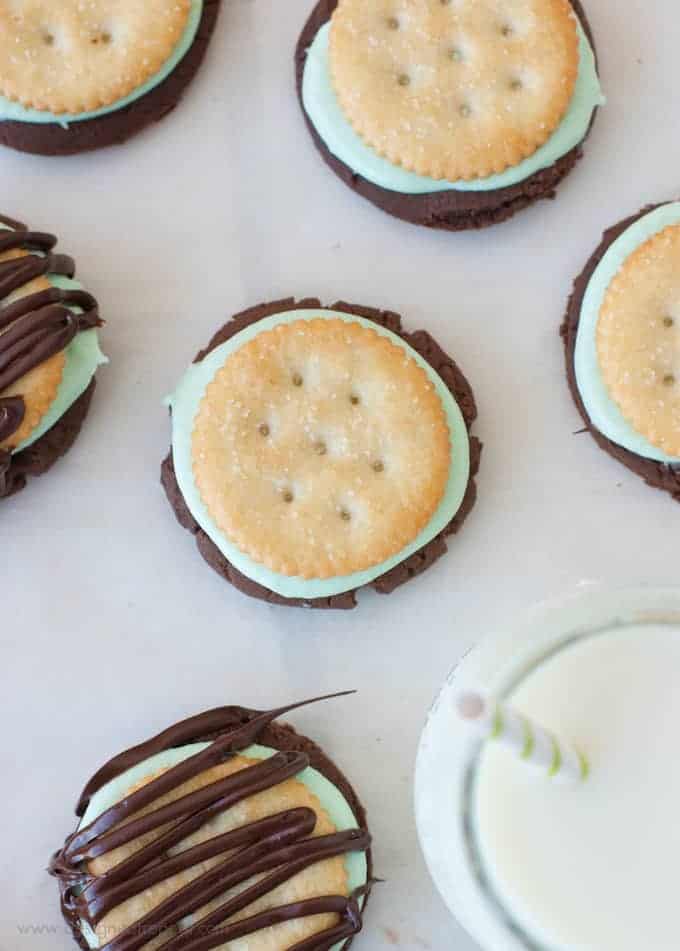 And we don't stop after topping each cookie with mint creme. It takes a total of four layers before these beauties are complete. The cracker adds a nice buttery, saltiness to the cookie and also gives it an extra crunch. Finished off with a chocolate drizzle and you're good to go.
Chocolate Bottomed Mint Creme Cookies
Prep Time: 10 minutes
Cook Time: 10 minutes
Total Time: 20 minutes
Course: Dessert
Category: Cookie
Servings: 36 cookies
Ingredients
Dough:
1/2 cup 1 stick butter
1/2 cup dark chocolate chips
1/2 cup semi-sweet chocolate chips
3 tablespoons unsweetened cocoa powder
1/4 cup sugar
1/4 cup brown sugar
1 egg
1 teaspoon baking soda
2 cups all-purpose flour
Filling:
4 ounces cream cheese softened
1/4 cup 1/2 stick butter, softened
1 teaspoon mint extract
1/4 teaspoon vanilla
3/4 cup powdered sugar
Green Food Coloring optional
36 round crackers
Chocolate Drizzle
1/4 cup semi-sweet chocolate chips melted
Instructions
In a glass bowl, melt butter and chocolate chips in the microwave on half-power for 1 minute. Stir mixture and continue to melt in 20 second increments in microwave until butter and chocolate is melted & smooth. Allow to cool for 2 minutes.

In a large mixing bowl, mix together chocolate/butter mixture, cocoa, white sugar, and brown sugar with electric mixer for 30 seconds. Add egg and stir until combined.

On low speed, add in baking soda and stir for 10 seconds. Slowly add in flour and mix for 30 seconds, or until dough is combined.

Scoop by the tablespoon and roll into balls. Place each ball on a parchment-covered baking sheet. Flatten each ball to 1/4 inch thick and using a 2 inch diameter cup, cut a circle into each pressed cookie. Remove excess dough after cutting and throw back into the ball to remix.

Bake at 350 degrees for 8 minutes. Allow to cool on the hot pan for 10 minutes before removing cookies from the tray.

To make filling, beat the cream cheese, butter, mint extract, and vanilla on high speed with an electric mixer for 30 seconds. Add in powdered sugar and continue to beat for another 30 seconds. (Optional: Add a few drops of green food coloring to creme mixture.) Pipe 1/2 tablespoon of creme on top of each chocolate cookie. Top with cracker. Finish with chocolate drizzle.

If not serving immediately, store in airtight container in the fridge for up to 3 days.
Nutrition
Calories: 143kcal
Fat: 8g
Saturated fat: 4g
Cholesterol: 18mg
Sodium: 84mg
Potassium: 62mg
Carbohydrates: 16g
Sugar: 7g
Protein: 1g
Vitamin A: 165%
Calcium: 22%
Iron: 0.8%
These cookies are the best after they have been popped in the freezer for about 10 minutes. The creme slightly freezes and the texture is at its prime. They taste pretty similar to the creme de mint cookies from the store, and would make for a great addition to those holiday platters. Because it sure wouldn't be the holidays without a little mint.