* If you follow me on social media, you know that all of November I will be posting cookie recipes in a series called, 30 Days of Cookies. That's 30 recipes to develop, make, photograph, edit, and write in 30 days. For a roundup of all posts, you can visit the 30 Days of Cookies Archive page. Today is Day 21 of 30 with these Chewy Hot Chocolate Cookie Cups. Follow along on Instagram for behind the scenes cookie-making-madness and be sure to link up your own cookie recipes, using the hashtag #30daysofcookies.
After being greeted with 40 inches of ice on my car tonight after work (okay, 1/4 inch), I can't think of a better time to whip out the hot chocolate, snuggie, and crank that furnace on high. Winter and I are not tight, and I don't think it's a type of relationship that can ever be mended. I just cannot comprehend how some people rejoice in the first snowfall of the season. Sure, it's pretty and all, but when I have to spend 20 extra minutes scraping feet of snow off my car, biff it on icy sidewalks, and drive 10mph on the highway, I could do without it. The only thing I like about it is that it gives me an excuse to drink hot chocolate multiple times a week.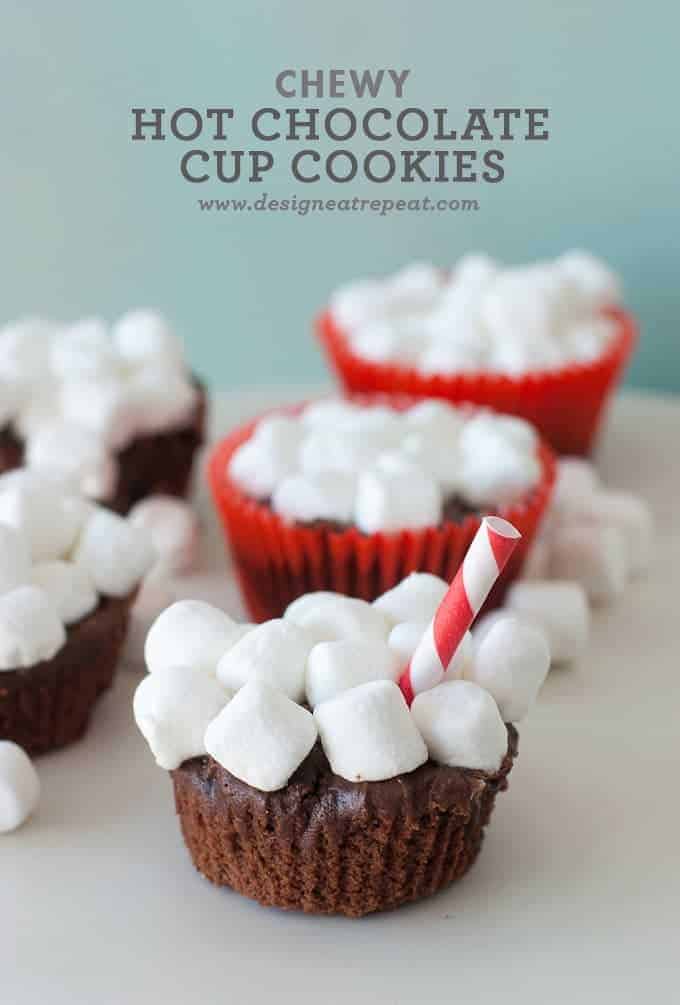 What I really want is a Kuerig to make me hot chocolate. But considering I don't drink coffee, I'm not sure I'm ready to fork over $100+ dollars for something that is basically a hot chocolate maker. I'm pretty sure my microwave & hand can do the job just as well for free. But even with that realization, it still doesn't make me not want a Kuerig. They're just so cool and I just really wish I liked coffee.
I whipped these hot chocolate cookie cups up last weekend before all the wintery weather decided to fall & crush my spirits. One might debate that these are more of brownies, but once you try them, you'll see that the texture is a mix between a cookie and a cake-like brownie. The dough has a subtle chocolate flavor, while the chocolate chips & marshmallows inside create a sweet, chewy texture. The perfect blend if dark/rich chocolate is not your thing.
Because the dough is a little on the stickier side, I lightly greased my greaseproof baking liners before scooping in the dough. Whenever you peel back  liners while cupcakes/cookies are warm, you run the risk of the cupcake liner sticking to the cupcake. I like these cookies best when they are warm, so I didn't really care if the liner peeled off clean or not. They're fun to serve in the cupcake liner with a fun paper straw and just let people dig in with a fork. However, once I let them cool & chill outside for a little bit, I found that the liner peeled off nice and clean. So it's up to you how you serve them! I will say that these are best served on the same day you make them, as they don't hold their softness much longer than a day or two.
Chewy Hot Chocolate Cookie Cups
Prep Time: 10 minutes
Cook Time: 10 minutes
Total Time: 20 minutes
Course: Dessert
Category: Cookie
Servings: 8
Ingredients
3 tablespoons butter softened
2 eggs
1/2 cup sugar
1/4 cup powdered sugar
1 1/2 teaspoon vanilla
1/2 teaspoon baking powder
1/4 cup unsweetened cocoa powder
3/4 cup all-purpose flour
1/2 cup semi-sweet chocolate chips
2 cups mini marshmallows
Before you begin! If you make this, will you do me a huge favor and leave a review and rating letting me know how you liked this recipe? This helps my small business thrive so I can continue providing free recipes and high-quality content for you.
Instructions
In a large bowl, cream together butter, eggs, sugar, and powdered sugar with an electric mixer on medium speed for 20 seconds. Add in vanilla and continue to mix for 10 seconds.

Add baking powder and mix on low speed for 10 seconds. Add cocoa & flour and continue to mix until incorporated.

Add in the semi-sweet chocolate chips and 1 cup of the marshmallows to the dough and mix for 10 seconds on low speed.

Prepare a cupcake tin with 8 cupcake liners. Lightly spray the inside of each liner with non-stick cookie spray. Scoop 2 tablespoons of cookie dough into each cupcake liner.

Bake at 350 degrees for 12 minutes. Remove from oven, and top the cookie cups using the remaining 1 cup of marshmallows.

Serve warm with a glass of milk!

Although I highly recommended serving these fresh, if you don't plan to serve immediately, store in an airtight container for 1-2 days.
Last Step! Please leave a review and rating letting me know how you liked this recipe! This helps my small business thrive so I can continue providing free recipes and high-quality content for you.
Nutrition
Calories: 272kcal
Fat: 10g
Saturated fat: 5g
Cholesterol: 52mg
Sodium: 65mg
Potassium: 157mg
Carbohydrates: 43g
Fiber: 2g
Sugar: 27g
Protein: 4g
Vitamin A: 190%
Calcium: 30%
Iron: 1.9%
So what type of wintery hot drink type are you? Every time I see someone with a Starbucks cup, I wish so badly that I liked hot drinks other than hot chocolate. I'm hoping that at some point my tastebuds will realize my need for caffeine, and grow to like coffee. But until then, I guess I'll keep sipping on my water and dreaming about that personal hot chocolate machine.