Well, well, well. Look what we have here. A RECIPE POST! Guys, I know these have been few and far between around here but I'm going to try and get better at this in the new year. Since moving to Utah, I've been filling my time with a good amount of traveling, work, and weekend craft projects and baking has taken the back seat. Good for my health, good for my travel bug, bad for the blog. But I have some grand ol' ideas for the blog in 2016, so as long as random trips don't interfere, you'll hopefully see more tasty goodness around here in the coming months! Starting with these Chewy Double Chocolate Caramel Cookies that I whipped up this past weekend and now have to hide from myself in the freezer. Talk about struggles.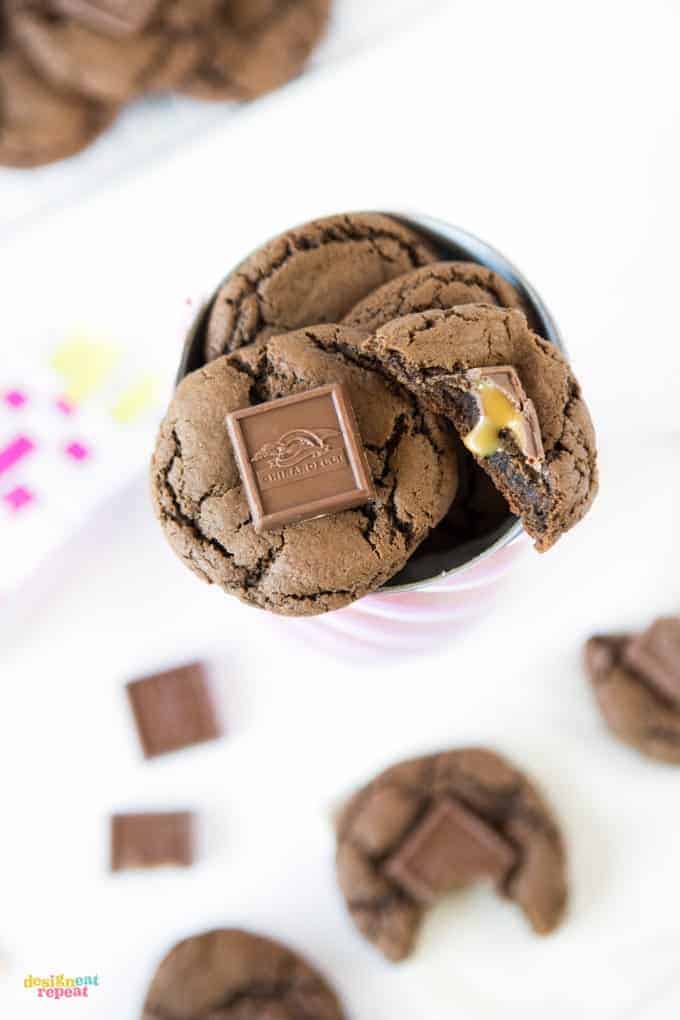 As if cookie dough infused with melted chocolate and cocoa isn't enough chocolate to break that new years resolution, I topped them off with some caramel squares. Because WHY NOT. When you get a gift card to buy chocolate, you buy #allthekinds and then try to find ways to bake with them to prevent yourself from devouring them by the pound. I used Ghiradelli mini caramel squares, but you can use whatever ones you want! I also had a bag of Hershey heart caramels that I was going to use and then well…you can probably guess what happened to those. #woops
These almost have a chewy brownie texture, which makes them all the more irresistible. I thought these tasted good right of the oven until I let the flavors mesh together overnight in an airtight container and then realized they were about 150% better on Day 2. So if you can resist eating these for a day, do it. The texture is just grand on Day 2, I tell ya. Just grand.
Chewy Double Chocolate Caramel Cookies
A cookie with a chewy brownie texture, making them all the more irresistible.
Prep Time: 10 minutes
Cook Time: 10 minutes
Total Time: 20 minutes
Course: Dessert
Category: Cookie
Servings: 18 cookies
Ingredients
1/2 cup butter
1/2 cup semi-sweet chocolate chips
1 teaspoon vanilla
4 tablespoons unsweetened cocoa powder
1 1/4 cup light brown sugar
2 eggs
3/4 teaspoon baking soda
1/2 teaspoon salt
1 3/4 cups all-purpose flour
Before you begin! If you make this, will you do me a huge favor and leave a review and rating letting me know how you liked this recipe? This helps my small business thrive so I can continue providing free recipes and high-quality content for you.
Instructions
In a glass bowl, melt butter and chocolate chips in the microwave on half-power for 1 minute. Stir mixture and continue to melt in 20 second increments in microwave until butter and chocolate is melted & smooth. Set aside and allow to cool for 3-5 minutes (you want it semi-cool, but do not want it to harden).

In a large mixing bowl, mix together chocolate/butter mixture, vanilla, cocoa, and brown sugar with electric mixer for 30 seconds. Add eggs and stir until combined.

On low speed, add in baking soda and salt and stir for 10 seconds. Slowly add in flour and mix for 30 seconds, or until dough is combined.

Scoop and roll into (2 tablespoon sized) balls with hands, and place dough balls on a parchment-covered baking sheet.

Bake at 350 degrees for 10-12 minutes.

Immediately after removing from the oven, place pan on wire rack and lightly press in chocolate caramel squares. Do not remove cookies from pan just yet. Allow for the cookies to continue to bake on hot baking sheet for 5-10 minutes until removing cookies from the baking sheet.
Last Step! Please leave a review and rating letting me know how you liked this recipe! This helps my small business thrive so I can continue providing free recipes and high-quality content for you.
Recipe Notes
I thought these cookies were best on Day 2, so (if you can wait to eat them) store them in an airtight container overnight to allow the flavors to mesh together!
Nutrition
Calories: 224kcal
Fat: 9g
Saturated fat: 5g
Cholesterol: 34mg
Sodium: 178mg
Potassium: 85mg
Carbohydrates: 32g
Fiber: 1g
Sugar: 20g
Protein: 2g
Vitamin A: 205%
Calcium: 35%
Iron: 1.4%
Considering Valentine's Day is just around the corner, it wouldn't be the worst idea in the world to whip up a batch of these instead of forking over a million dollars on a fancy box of chocolate. I've got some fun Valentine's Day gifting ideas coming up here soon, so get those ingredients and craft supplies ready for some food gifting!