Print this free printable gift wrap on 8.5 x 11″ paper for easy, last-minute DIY wrapping paper!
One thing you might be surprised to know about me is that I absolutely despise wrapping presents. The thought of it sounds all fun & creative, but when I actually start, all those feelings go away. I like buying/making the actual gifts, but when it comes to the packaging of them, bags always win.
I think this stems from the fact that I want to make them look good, but as soon as the scissors tears the paper, it's game over. It usually only takes about 3 minutes before I'm literally bunching up the wrapping paper, slapping on some tape, and calling it a day.
I try a little harder when I actually have to make it look presentable, but let's just say that my family's Christmas gifts look like they were wrapped by a three year old. In fact, I'm sure a three year (with some good concentration) could churn out a better wrapped gift than me. So you can probably imagine what my wrapping paper stash looks like. Oh wait, I don't have a wrapping paper stash.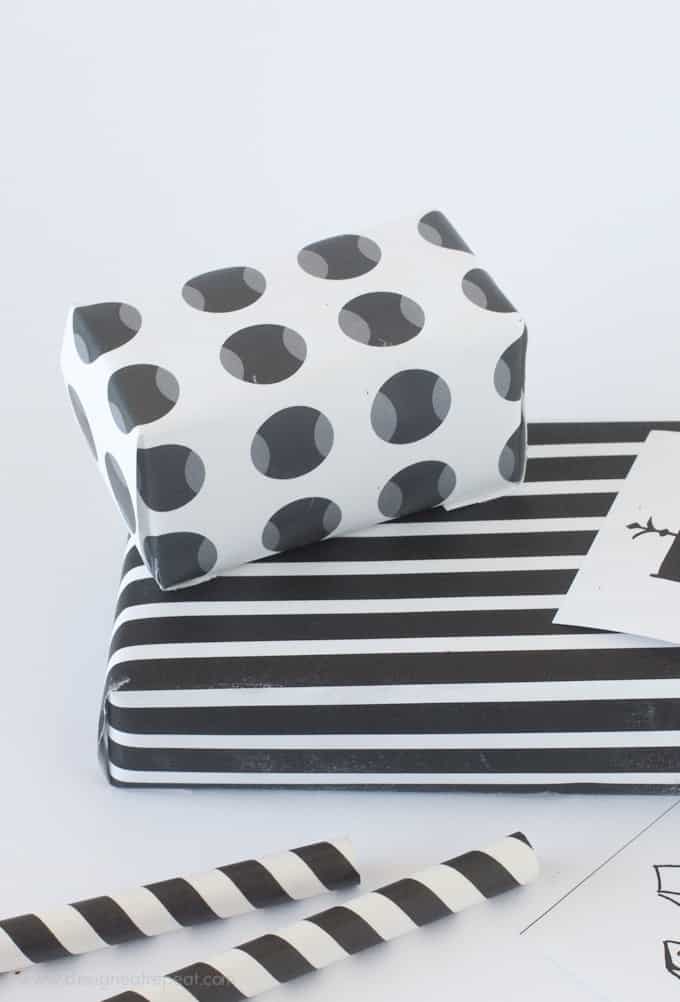 I made this printable gift wrap a few weeks ago for no good reason. I didn't have anything to actually wrap, but it sounded fun, so I made it. Which is how a lot of my crafts work out. Boredom & a wandering creative mind. Since I didn't have anything "real" to wrap, I grabbed a box of checks and a box of garlic, and wrapped them on up for the photoshoot.
It wasn't until I went to make salsa the next weekend that I couldn't find the garlic. After accepting the fact that the garlic must be gone, I found it in my craft corner wrapped up in this printable gift wrap. It was nice to know I hadn't completely lost my mind, but when it comes down to it, yeah I probably have.
Printable Gift Wrap Materials:
Printable Gift Wrap (download below)  //  Tape  //  Paper Straw  // Gift Tag
* Recommend printing on thin computer paper to ensure easy folding.
I'll be back tomorrow with the printable Halloween tags that you see above. But for now, how many of you actually like the physical process of wrapping gifts? I know several people who love doing it, and to that I say, bless your heart and what are your Christmas time gift wrapping rates?