If you're a NCAA® March Madness fan, this DIY Basketball Party Snack Bar sponsored by Collective Bias, Inc. and its advertiser is an easy way to add some color and crunch to game day! All opinions and writings are my own. Thank you to my sponsors who allow me to continue producing free printables and recipes! Coca-Cola is a corporate champion of the NCAA. Messaging below is intended for ages 21+ and is intended to be enjoyed responsibly, in moderation. #FinalFourPack #CollectiveBias

I've been strangely into the NCAA® March Madness tournament this year and I'm not sure why. My dad makes all of us kids fill out a bracket every year for some friendly family competition, and that is usually about as involved as I'll get. Fill it out, hand it over, and then forget about it until 2 months later until I remember to ask who won that coveted $10 Dairy Queen gift card. But thanks to my college's basketball team actually being good this year & making it to the tournament, I've been hooked. Granted, they got out in round one but I've probably watched 15 of the games so far. Which is about 14.75 more than I've ever watched in the past. In fact, I've been sitting here writing this post for the past 3 hours during time outs and have typed about 5 words per hour because the intensity of this Michigan St. & Louisville game is making it real hard to focus. What. Has. Happened. To. Me?
I spent 4 years at Iowa State, never went to a basketball game, and now have more school spirit two years after graduating than I ever did while in school. I just don't know why, but there's something about watching college basketball that messes with your emotions. Seeing the teams work so hard all season for this very tournament and then watching the outcomes is both heartbreaking and heartwarming all at once. And don't get me started about having to watch the senior's faces in the final few seconds of the games knowing that their college careers are over. GUYS, why is this so emotional and dramatic all of a sudden? I can't handle it. I know it's just sports, but it just brings on so many feels
I even played basketball for like 8 years and never cared this much (the 6th grade me was just in it for the road trips & Casey's pizza stops on the way home). I really have no intention of getting anything greater than 8th place in this year's family bracket competition (out of 8 people), but that's fine with me since my bracket was busted on day one. And like always, sports are basically an excuse to whip out the crock pot, finger foods, and bevies and pretend calories don't exist. So this weekend, I decided to take a break from the hair-pulling of the past few weeks of games and put together a simple snack party spread that you can put together for your game day gatherings.
I've been loving all the colorful party supplies & Spring aisles at Walmart lately, so I hit up the store to pick up the goodies and snacks for this basketball party. Below are all the things I got, all for around $50:
– Large Blue Bucket for Ice (found in Easter/Spring aisle)
– Plastic Storage Container Lid for Backboard
– Tall Flower Bucket #obsessed
– Plastic Bowls, Paper Plates, Napkins, Plastic Utencils
– Basketball Easter Eggs (for shots)
– Chips/Salsa
– Soda
From the time I walked in my door with my million grocery bags to when the table was set up was less than 30 minutes. Probably even less if I hadn't been distracted by the game that was on. Before the party, the only things to assemble craft-wise were the printable straw toppers and ice bucket backboard. The rest was basically just filling the bowls with snacks and setting everything out! I was originally going to make the backboard out of poster board, but when I saw this plastic storage container lid, I knew it would be perfect (and way easier). I applied some orange washi tape in a square pattern and wah-lah it was done! I just taped it to the wall behind the ice bucket to create an easy basketball hoop.
After that was done, I printed out the jersey straw toppers, cut them out, and then taped them onto a fun paper straw. I've included the free printable below so you can make some for yourself!
Materials:
Basketball Party Printables // White Cardstock
Scissors and Exacto Knife // Tape // Paper Straws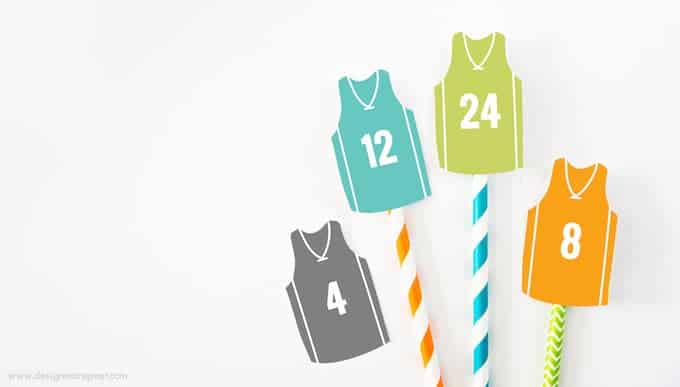 Once the crafting was done, I filled the bucket with ice, added in the soda cans, and then filled the basketball Easter eggs with rum so the guests could create some rum & Coke shooters if that was their thing. (I put the rum in tiny tupperware containers before putting them in the egg.)
In addition to the drinks, I put out some fun paper treat bags on the table so people could fill them with their favorite snackaroos. This party was nothing fancy, just some simple snacks and drinks to get everyone together and share in some game day grub.
With the Coca-Cola NCAA® Final Four Pack available at Walmart, you can get (4) 4-packs (16 cans) for $5 or 2 packs for $3. But lucky me, I scored them for $1/pack which made it even better! You know I love a good deal.
So tell me all you NCAA® March Madness fans, who is in your Final Four bracket? I had my team (Iowa State) going all the way (true naive move on my part), so my bracket is completely & utterly corrupt. But I just can't stop watching.