So I'm going to start off by saying that Target's dollar section should be renamed "the black hole of all your money" section. While there are times when the contents are a little sub-par, I'd say that 95% of the time, I want 100% of the things. Glass jars, paper straws, fun napkins/plates, pretty much everything. I picked up the jars you see below a few weeks back for $1, with no idea what to do with them. But after an hour of soaking the jars in soapy water to get the sticky label off, I looked over to my candy stash and knew exactly what they needed to be.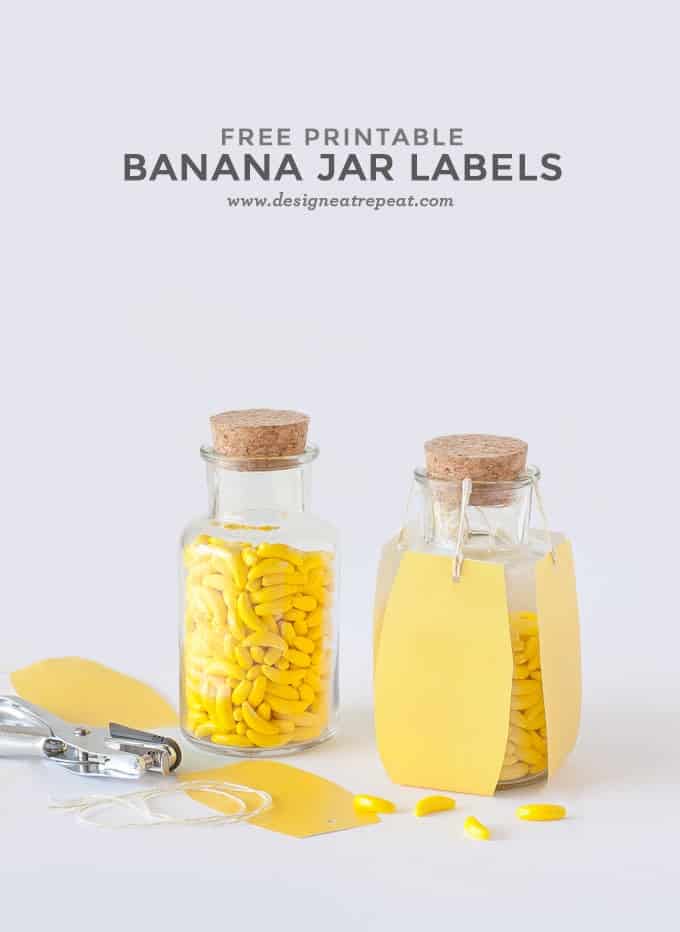 Like I said above, the jars here are from the Paper & Dots line in the dollar section at Target. I tried to hunt them down online, but haven't found 5″ tall ones like the ones here (if anyone finds some online, let me know!). You could get ones without the cork, but, that would take the "banana" look out of them. Every banana needs a stem, right?
I designed the printable "peel" in two pieces that you can simply cut out and tie together. Forget fancy labels or jar decorations, these will allow you to whip them up and peel out to party in no time. Use them as party favors, teacher gifts, or place settings for a frutilicious fiesta (I have some other fruit-related printables coming soon!).

Has anyone thrown/been to a fruit party before? With all the fruit-inspired projects I've been doing lately, I think it might be time for one. Whaddya think?