While most people think that brown bananas look disgusting, I, on the other hand, rejoice in their presence. Seeing clearance bananas are the grocery store = jackpot. Since overripe bananas are the best to bake with, I wait until they go on closeout and then find an excuse to make something with them. A little brown peel won't hurt anyone. Unless it's on the floor waiting for an innocent passerby. Then we might have some issues.
My freshman year of college I worked at the campus bakery. Sounds fun, huh? Well, it turned out to be more work than I thought. Baking for a campus of 30,000 proved to be a bit different than the picture I had in my mind of a bakery. Some days, I was assigned to peel hundreds of bananas in order to make banana bars or banana bread. By the time I got done with that job, you would have thought I would never want to look those yellow gremlins again. Or that I had turned into King Kong.
But surprisingly, I didn't. And I lived to see sophomore year.  And better yet? I haven't tired of making banana recipes. And the reason is? Mainly because of this ahh-mazing banana muffin recipe. I don't know about you, but I have had some real duds-of-muffin-recipes in my years. Dry, flavorless, duds. Oh, but not this one. This one turns out perfectly every time. One of the best things about this recipe is the brown sugar & cinnamon crumble that goes on top. It adds an extra sweetness to them, which of course, I would never complain about.
Banana Crumb Muffins
Prep Time: 10 minutes
Cook Time: 20 minutes
Total Time: 30 minutes
Course: Breakfast
Category: Muffins
Servings: 10 muffins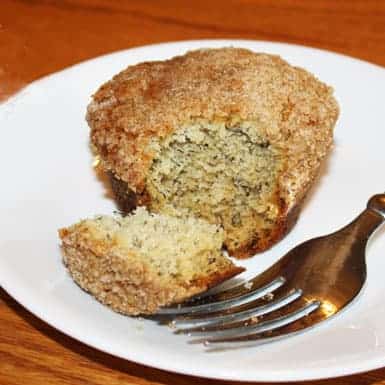 Ingredients
1 1/2 cups all-purpose flour
1 teaspoon baking soda
1 teaspoon baking powder
1/2 teaspoon salt
3 bananas mashed
3/4 cup white sugar
1 egg
1/3 cup butter melted
Crumb Topping:
1/3 cup packed brown sugar
4 tablespoons all-purpose flour
1/2 teaspoon ground cinnamon
1 tablespoon butter softened
Instructions
Preheat oven to 375 degrees. Lightly grease 10 muffins cups, or line with muffin papers. Mix together 1 1/2 cups flour, baking soda, baking powder and salt. In another bowl, beat together bananas, sugar, egg and melted butter. Add the banana mixture into the flour mixture and stir until just moistened. Spoon into muffin cups.

In a separate bowl, combine brown sugar, flour, and cinnamon. Crumble softened butter into bowl and lightly mix until mixture is coarse, yet incorporated. Sprinkle mixture over top each muffin cup.

Bake for 16-18 minutes or until toothpick comes out clean.
Nutrition
Calories: 267kcal
Fat: 8g
Saturated fat: 4g
Cholesterol: 35mg
Sodium: 299mg
Potassium: 203mg
Carbohydrates: 47g
Fiber: 1g
Sugar: 26g
Protein: 3g
Vitamin A: 270%
Vitamin C: 3.1%
Calcium: 32%
Iron: 1.3%
These are seriously thee best banana muffins ever. I like to make a batch and then freeze them in individual packages. That way, I can set one out the night before and then grab one as I'm running out the door in the morning.
What's your favorite bah-nah-nuh recipe?