Well boy oh' boy, wasn't that title a mouthful. I tried to think of a shorter name to this dessert, but let me tell ya' that every single word deserves to stay in the title. It is that good.  I could literally think of a hundred words to describe this delectable dessert. And they would all be synonyms of heaven.
I've made peanut butter chocolate desserts before (pb & chocolate is my Dad's favorite combo) but never have I made something THIS GOOD. And to be quite honest, I'm not sure there are many ways to go wrong with this dessert. A layer of brownies, a layer of peanut butter cheesecake, a layer of chocolate gananche, and then a layer of Reeses peanut butter cups.  Can I hear an Amen, sista?
So when I found this recipe online, I knew I had to try it.  After getting home Friday from school (it's Thanksgiving break, baby!) I challenged the little bro to a "bake-off."  I made these and he made Double Chocolate Chip Cookies (coming your way tomorrow!). Okay. When I say that he made them, I actually mean that I walked him through every. single. step.  He's much better at eating them than making them.  But his cookies actually turned out great. And the best part? He even admitted that I won the bake-off. And that tells you something, because this kid is very competitive. Haha.
Check out the 'winning' bars below!
Check out the layers to this! Every single layer is a treat in and of itself!
One more shot of the goodness…
Peanut Butter Brownie Cheesecake
Prep Time: 1 hour 30 minutes
Cook Time: 30 minutes
Total Time: 2 hours
Course: Dessert
Category: Cake
Servings: 18 bars (depending on size)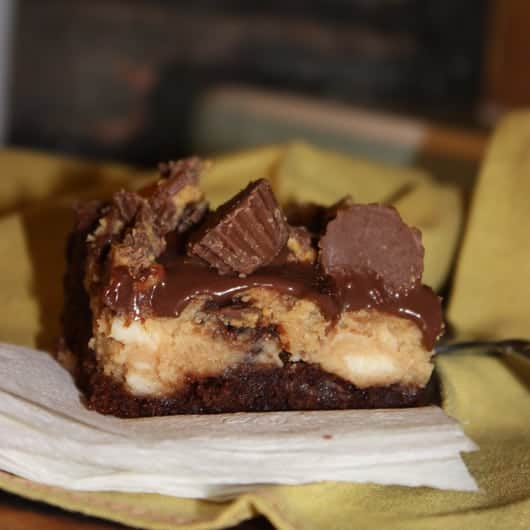 Ingredients
1 box chocolate fudge brownie mix plus ingredients the box calls for
1 package cream cheese softened
1 can sweetened condensed milk
½ cup creamy peanut butter
12 oz. Reese's Pieces candy
2 cups milk chocolate chips (12 oz. bag)
3 tablespoons whipping cream
12 large Reese's Peanut Butter Cups chopped
Instructions
Make brownie mix according to package and spread batter into to a lightly greased 9 x 13 pan. Set aside.

In a medium-sized bowl, beat cream cheese for 1 minute. Stir in condensed milk and peanut butter and beat for one minute.

Stir in the Reese's Pieces candies and spread cream cheese mixture over the brownie batter.

Bake at 350 degrees for 40 minutes or until edges are golden brown.

Cool for 30 minutes on a wire rack and then chill in fridge for 30 minutes.

While bars are chilling, melt together chocolate chips and whipping cream in a small saucepan on low heat.

Remove bars from fridge and spread chocolate topping on top.

Immediately add Reese's Peanut Butter Cup pieces and store in fridge until you are ready to serve.
Nutrition
Calories: 304kcal
Fat: 17g
Saturated fat: 8g
Cholesterol: 7mg
Sodium: 124mg
Potassium: 153mg
Carbohydrates: 32g
Fiber: 1g
Sugar: 28g
Protein: 6g
Vitamin A: 90%
Vitamin C: 0.1%
Calcium: 50%
Iron: 0.6%